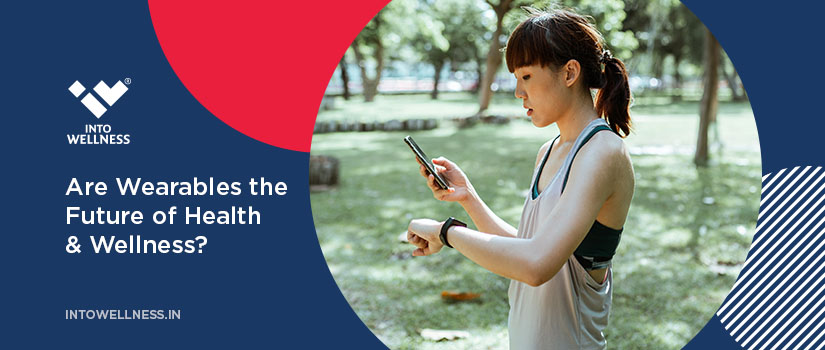 Now-a-days, our lives revolve around smart devices- apart from phones, there are smart toasters, smart home devices, smart security devices, etc. In the age of 'everything smart', the wearable industry has stepped in with extremely innovative and intelligent health and fitness devices. Fitness, health and data tracking wearables or commonly known as fitness wearables have been catching popularity lately, helping us stay informed and in-touch with ourselves.
What is wearable technology?

Wearable technology is integrated in electronic devices that are physically worn by individuals in order to track, analyze and transmit personal data. These 'smart IoT devices' can track various biometric data from heart rate to sleep patterns and much more.
Wearables (as we commonly call them) are electronic devices that are worn on a person in order to accurately relay or transmit important medical, biological and exercise data to a database.
What are Fitness Wearables?
Fitness wearables are associated with the health and wellness sectors, and have pioneered the way we track everything from heart rates to our daily steps. Keeping a track of various aspects of our health and fitness has become a part of a daily routine for millions of people across the globe. 
These devices encourage healthier lifestyles through the data they collect. For example:
Knowing how far your run encourages you to push yourself further to beat your own, old record. 

Making you see that you're close to your daily record of number of steps, encourages you to go for a walk a little more to reach the daily goals.

Tracking your current sleep habits could make you aware and help you sleep more soundly at night. 
Wearable technology has been really motivational and innovative in the health and wellness journey.
Fitness Wearable Devices
Fitness trackers or fitness wearables can various useful features such as:
Measure your heart rate.

Read your blood-oxygen levels.

Accompany you swimming

Tell you if you're well-rested. 
Furthermore, when you're not working out, some fitness trackers can be used to play music, answer texts, etc.
With so many devices and brands available to choose from, picking one of the best fitness wearables for your needs can be tricky. Here are a few brands which you can choose from:
This is overall one of the best fitness trackers you can buy.
It is water resistant, and has a GPS as well as heart-rate monitor.

Doesn't have on-board music but you can make mobile payment through it.

It can be used as a swim tracker and also has a ECG monitor integrated.

It has a bright display and a fast connecting GPS.

However, lack of buttons and no spotify compatibility, makes its usability a little constrained.
One of the best fitness tracker with body composition analysis.
It has a good battery life of upto 40hours, with sleep tracking, GPS, heart-rate monitor, and is also swim-proof.

It is the first major smartwatch with body composition analysis and a slim design.
It is a good smartwatch choice for iphone users.
With upto 18 hours of battery life (could have been better), it has GPS, and heart rate monitor.

It is iOS compatible, has ApplePay for mobile payments, and is also swim-proof.

With a large display, it has a always-on display mode too.

Qwerty keypad makes it easy to use, however it has no added health features.
An extremely affordable divide with Alexa integrated.
It is lightweight, has a battery life of upto 15 days, but no GPS.

Along with being swim-proof, it tracks sleep, and has a heart rate sensor.

However, its display can get difficult to see in sunlight.
This is one of the best fitness wearables for runners.
It has a better life of upto 11 hours (using GPS and heart rate),but both these readings are quite accurate.

It is swim-proof but no swim-tracking mode, and also has GPS as well as a sleep tracker.

With an on-board music storage, it has a customizable interface, with a display that is easy to read under the sunlight.
Click here to go through a few more brands, and to know how to choose the right tracker for your use.
Benefits and Usage of Fitness Wearables


With a fitness tracker, you get that push you need to keep you physically active every day! Get in shape and track your success with the below mentioned benefits of fitness wearables: 
Keeps Track of Your Progress
It makes you want to keep up with the goals it projects by reading various data. Regular reminders boosts your motivation levels and lets you record your exercise statistics. It generates detailed info-graphics and reports so that you can see how far you have come, and enables you to plan your goals further.
Free Workout Trainer and Tips
It could be difficult to plan a solid fitness routine and adhere to it religiously when you have a busy schedule. However these fitness wearables offer different workout ideas that are customized to suit your current fitness level.
Helps in Setting Short-Term Goals
To achieve the best results, you need to start by setting short-term and realistic goals that can be achieved. Using fitness trackers can help and achieve realistic goals within the recommended time frame. It also ensures that you don't lose motivation or quit midway.
Extremely User-Friendly and Convenient to Use
Clear interface, a bright display, simple statistics, vibrating alarms, and history tracking and many other convenient and useful features make it easy for users of all age groups, to check their progress instantly without interrupting their workout sessions.
Daily Motivation
Working out and maintaining a fit body can not always be full of motivation and high energy, it includes both good and bad weeks. It is normal to experience them as sleep and activity patterns vary across the days, weeks, and months depending on various factors. A fitness tracker enables you to determine habits that can be easily maintained. Furthermore, most tracking devices let you share your progress with your friends on social media and also create personal workout groups with competitive goals, which keeps you motivated and pushes you to workout regularly.
Could Fitness Wearables Boost Your Heart Health?
Studies show that consistently using a fitness tracker or a fitness wearable device can increase your steps per day by more than a kilometer. 
Having a daily record can open people's eyes to how little exercise they're getting, or how physically inactive they are, which can thus help change their mindset. 
With a fitness wearable, you can find various ways to incorporate more activity into your day- dedicated walking or gym time, walking during meetings or personal calls, or simply taking the stairs instead of an elevator.
The information displayed on the tracker or a wearable device empowers us to start making changes for heart health; in fact our activity levels might not be  something that we were paying attention to before we started tracking.
Where to Start and How to Stick to It?
Start by finding a fitness wearable device with sufficient features that fits in your budget.:
Make sure to use it consistently, every day.

Set a goal- 10,000 steps per day should be good to begin, but check with your doctor if you have any health considerations to make. They can help you alter your goals accordingly.

Find activities you enjoy such as jogging, or swimming etc. that also fit into your daily life and can be easily maintained. 

Encourage your friends and family to use fitness wearables too so that you can create a social support network and even incorporate a sense of competition to progress daily!

Be accountable by checking your numbers every day, and share them with your doctor (if needed).
Follow these simple tips and you'll soon be on your way to a better and healthier heart and lifestyle!
The Future of Fitness Wearables

The advancement of wearables has been welcomed in healthcare and sports industries for a number of reasons, some of which have been mentioned above. The healthcare industry is probably seeing the biggest benefit from wearable technology, where patients who wear these smart devices can measure information ranging from body temperature to blood pressure. This can then easily be relayed to the medical professionals. 
Doctors have a quicker way to accurately diagnose and treat a patient, if something looks wrong. The data collected quickens the entire treatment process, because doctors no longer have to run a list of tests to determine an illness or disease. 
The future of fitness wearables is about helping you understand health data more easily and precisely, as brands and companies explore more advanced health metrics. Blood-sugar monitoring system could be the next major integration in the health and fitness wearables. Experts are excited about the potential of using wearable devices to help detect disease at an early stage. The technology has made progress and would be making advancements even further, hence healthcare physicians have started trusting these metrics to treat patients.